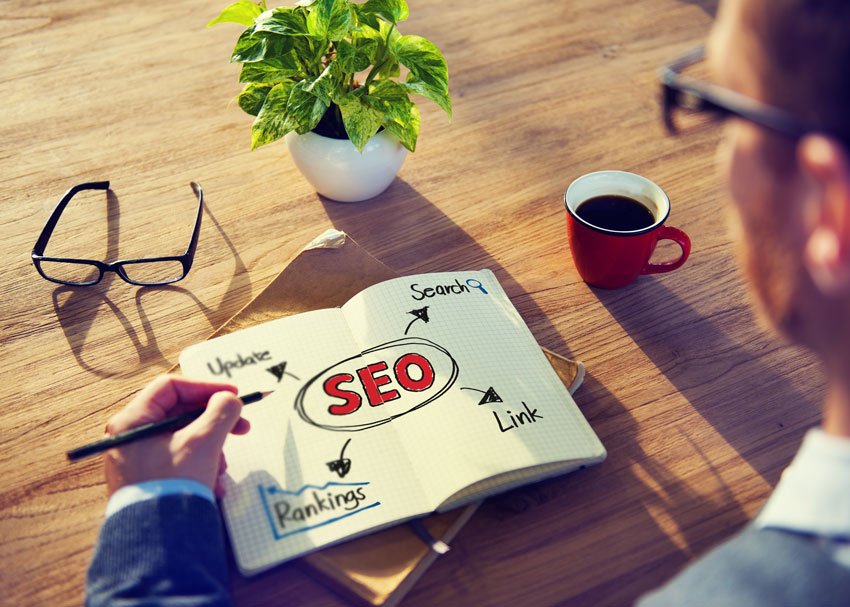 Once you have decided to try SEO for your business, it is mandatory to do some research and develop knowledge about it. The first and foremost thing to do is to increase your vocabulary on SEO. Some of the basics are listed and explained as follows.
Anchor Text
An anchor text is a clickable text where the hyperlink is inserted. It is often relevant to the page that you are linking to.
Keyword
Keyword on SEO is a word or phrase in the content that you have published or yet to publish, which helps the people to find your site via search engines.
Meta Description
Meta description is a HTML attribute that has 150 to 155 characters which summarize the page content.
Title Tag
It is a HTML element which indicates the title of the web page; a clickable headline displayed on search engine page results for your keyword.
Indexing
Indexing is a database process in search engines which encompasses all information available on search engines. If the content or website isn't indexed, the content will not be exposed to users.
Keyword Research
Research of discovering topics, subjects and terms searchers used to fish out on search engines.
Keyword Stuffing
Process of adding incoherent keywords, repeating the same keyword beyond the natural limit on a web page in the motive of increasing search engine results ranking.
Keyword Density
Keyword density is nothing but the number of times the keyword appears on a webpage.
Links
In general, Link is an open source text and graphics web browser that brings down the menu system. In SEO, two types of links are available. Internal link and external link. Internal link is a link available on your website and external link is someone has linked your website on theirs.
Canonical URL or tag
Some businesses need to use the same content in various spaces and with canonical tags, it is possible to share the same content in different places.
301 Redirects
When you delete published content or change a link, visitors receive 404 Error. Introducing 301 redirects will redirect the user to the same old content on the page you have published now.
404 Error
404 Error is an error when the web page is removed or moved to another place yet the URL wasn't changed.
SERP
Search Engine Results Page is the page that pops up when you search your keyword on the search engine.
Traffic
Views and visitors on a website are called traffic.
White Hat SEO Practices
By following the search engines norms, increasing the Search Engine Result Page visibility is called White Hat SEO. They are highly safe to consider.
Black Hat SEO
The Black Hat SEO is the exact opposite of White Hat SEO. By violating the norms of search engines, search engine result page visibility is increased. Though the method is temporary, it is more like a shortcut to achieve the results.
Content Strategy
It focuses on planning, creating, delivering and governing content. It encompasses words, images and multimedia contents.
Content Marketing
Content marketing encompasses creation and sharing of online materials which promotes brand and increases the interest in certain products and services.
Blog
Blog is a content published on a website. It is also called as weblogs.
Bounce Rate
Percentage of visitors navigate to another website within a short span of time or by viewing only one page.
Broken Link
A 404 error occurred on a webpage is called broken link. This occurs when a website goes online, webpage or content is removed without redirecting it.
Clickbait
Clickbait is a content that entices people to click while most of them are intentionally misleading in headlines so as to draw more visitors.
Click Through Rate
Click Through Rate is the number of users who click a specific link amongst the total viewers on the page.
Crawler
A program designed and used by search engines to snapshot the content on a webpage which helps to index.
De-indexing
De-indexing is the exact opposite of Indexing. Search engines remove websites or pages as a punishment of violating their norms.
Link Building
This is more of creating an external link to your page so as to draw more traffic to your websites.
Metric
This method helps to measure the activity and performance which explain the success of the SEO initiative.
On Page SEO
Primary keywords, Relevant content and HTML Source code of webpage is optimized to attain higher rank and draw relevant traffic in search engines.
Off Page SEO
Employing link building and other options so as to improve the spot of website in search engine results visibility is called Off page SEO.
SEM
SEM is Search Engine Marketing which increases visibility of the webpage in search engine results pages with paid and organic activities.
A good Digital Marketing Company will consider and incorporate all the SEO related considerations to propel online presence of their clients.